I feel like more and more the GOP is just redundant. So long as there are Democrats, what, exactly, is the point of the Republican political animal?
When wolves were re-introduced to Yellowstone Park, one of the very first things they did is go around finding all the coyote dens and killing all the coyotes they found there. They did this because wolves have no use for coyotes. They recognize that coyotes are just liteweight wannabe wolves, competing for food and space that the wolves want, while doing absolutely nothing in the ecosystem that wolves or some other lower predator don't already do.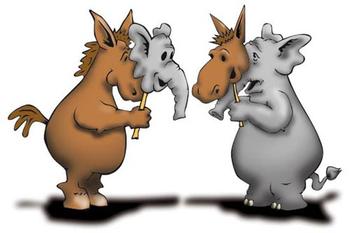 The Republican Party has been in the control of the coyotes for far too long, and they are not interested in serving the interests of anybody but their fellow coyotes, with the occasional raw steak tossed to the wolves in the hopes that the wolves will be placated and will let them live.