Abortionist Dr. Leroy Carhart has had another woman die due to a late term abortion he performed. Media ignores it, naturally. http://proteinwisdom.com/?p=47334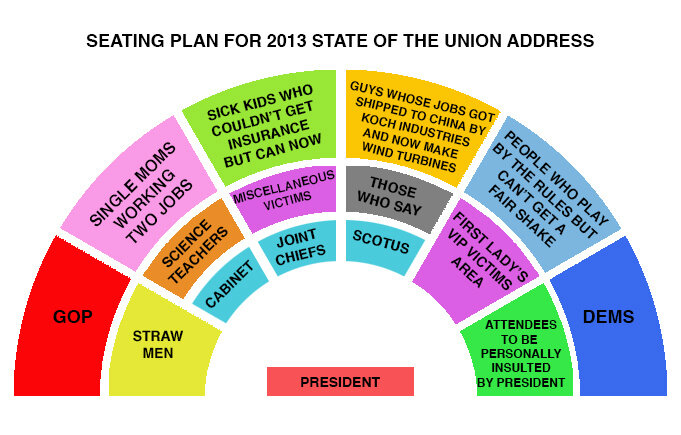 Fact-checking the SOTU: http://www.thedailybeast.com/articles/2013/02/13/fact-checking-the-state-of-the-union.html?source=socialflow&account=thedailybeast&medium=twitter
Rand Paul's response to it: http://www.therightscoop.com/full-speech-rand-pauls-tea-party-response-to-the-state-of-the-union-address/
Al Gore actually did sell CurrentTV to Al Jazeera, but the WaPo chose to report as factual a satire headline about Palin working for Al Jazeera. This is what happens when Palin hatred trumps journalism. http://hotair.com/archives/2013/02/12/oops-wapo-retracts-report-sarah-palin-is-going-to-al-jazeera/
"[America's] biggest fall is in entrepreneurship and opportunity, which has declined eight places in the last four years. Businesses' start-up costs are rising in the land of pioneers and patents." http://www.nationalreview.com/articles/340280/if-only-we-were-swedenizing-james-pethokoukis
Cal Thomas thinks Ben Carson owes Obama an apology: http://www.foxnews.com/opinion/2013/02/12/dr-ben-carson-should-apologize-to-president-obama/?
One of the heroines of the Ft. Hood terrorist attack says Obama used and then betrayed her and the other victims: http://www.foxnews.com/politics/2013/02/12/fort-hood-heroine-says-victims-betrayed-by-obama/
The 2011 budget cuts that never were: they agreed to cut programs that were already being cut or not to spend quite as much as had been authorized while still increasing spending. http://betsyspage.blogspot.com/2013/02/cruising-web_11.html
So the Pope resigned.  http://www.washingtonpost.com/blogs/worldviews/wp/2013/02/11/pope-benedict-xvi-announces-resignation/?tid=pm_world_pop
4 other Popes who resigned: http://www.washingtonpost.com/blogs/worldviews/wp/2013/02/11/the-bizarre-stories-of-the-four-other-popes-to-have-resigned-in-the-last-1000-years/
The Anchoress has an interesting post- my favorite parts are where she gently snipes at the media who are already slobbering over their hope that the next Pope won't be very Catholic. http://www.patheos.com/blogs/theanchoress/2013/02/11/pope-benedict-announces-retirement/
Here's an older post of mine from when Cardinal Ratzinger was appointed Pope and the subsequent media nonsense. Seems to be a lot more of the same today, so much so that this is astonishingly current: http://thecommonroomblog.com/2005/04/we-heard-it-on-the-radio.html
How the next pope will be chosen, and a list of the current Cardinals who are eligible for the papacy: http://www.canonlaw.info/ten_conclave.htm
Hipsters on Food Stamps: It's a longish read, but I enjoyed it, which isn't to say I agreed with all of it or thought it was always kindly worded. It was snarky.  It was downright harsh about the value of a college education and the wits of those who think majoring in puppetry (really, English Lit) was a clever thing to do.  It's really good stuff.  This is from part 2:
If you want to tell me a 30 year old hipster should be lashed for not trying to better himself, I'll bring the whip, but the 30 year old chose his pointless major when he was 17 and you think the outcome is all his fault?  A 17 year old can kill two people and still be considered too young to be criminally responsible, and anyway in that case you think the problem was video games and bullying.  Of course Gerry The Hipster is made of soy and ennui, but there's plenty of blame to go around.  When he was 17 the system incentivized him to destroy his life, tempted him with beer, babes, and BS– and the promise of an upper middle class lifestyle provided he went to "a good school" (read: gave the system $100k of his post tax, pre-interest money), never mind for what.   Like a good American, he did what he was told.

The society that taught people to want a defective college degree is, unfortunately, going to be expected to support those that bought it, it's still under warranty.  At the very minimum, it owes them their money back, and if they don't pay you should sue for breach of contract. "At the conclusion of this course, students will show a proficiency in…."  The plaintiff rests.

"They should have studied more." Agreed.  But then you shouldn't have admitted them, you shouldn't have passed them.  Inflate the grade, Gresham's Law the society.

All along you've said "you need to go to college so you can get a good job" but the system was not designed to raise producers, it was designed to raise consumers.  Well, here we are.  Why are you surprised that they need consumer stamps?  Why are you surprised they moved back in with you?   "We did the best we could."  No you did not, I was there, I saw it.  You borrowed against their future, and they can't pay it back.  And now you're yelling at them.
U.S. food stamps rolls now larger than population of Spain. http://proteinwisdom.com/?p=47317
Sadly, this is one of his real achievements that, were this President at all honest about his actual liberal fascist agenda — which is to grow the government and expand federal power, ally himself with big corporate interests, shrink the middle class, destroy small business, hamstring the private sector, and create a permanent dependent class that will keep voting "in their economic interests" — he would be boasting about this evening.