You may have heard that our dog, Zeus, loves to get wet in our creek. He looks very funny when he does, here is evidence: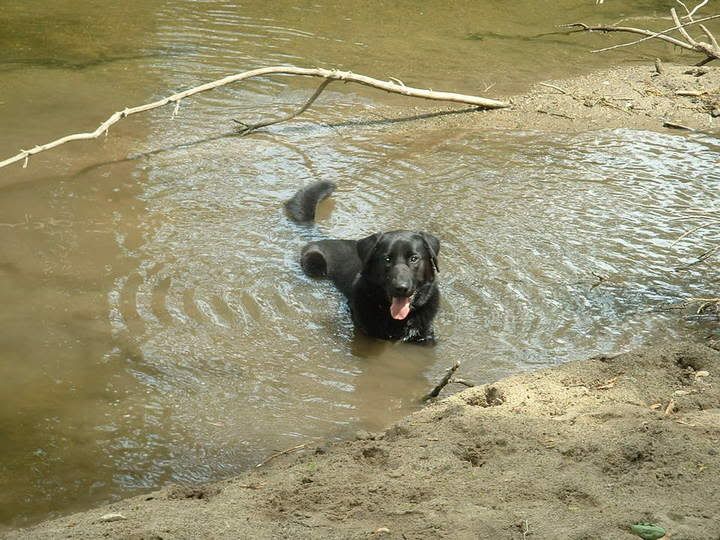 .
Isn't he ADORABLE?
We've written about Zeus a surprising number of times here in The Common Room. To see other posts about him, click on the links below:
Zeus Keeps Equuschick Up
Zeus dressed up for Christmas (and somewhat disgusted about his fate)
Zeus' bag of tricks
Zeus has a new hobby
Zeus was a dog abandoned on a road somewhere, picked up by a family who couldn't keep him busy enough and dropped off at the animal shelter, housebroken, good with children, and larger than a dog has a right to be. He joined the family when Equuschick, who works at the local animal shelter, called home one day to plead, "Mom, they're going to put him down today because nobody will take him, and he's so sweet, and so good, and we can just keep him until we find a good home for him, pleeeeeeze?"
So we brought him home until we found a good home for him, and it was ours, which was what the transparently devious Equuschick always had in mind, as the DeputyHeadmistress was fully aware. The Equuschick said he was a Black Lab. He is a mix of Black Lab and something monstrous huge. He is housebroken, good with children, and he is incredibly smart. I think a homeschooling family of nine is just what he needed to keep him busy. We don't give him much time to get into trouble, and most of us are here all day, every day, so he can't get lonely.
The Boy says that he's always wanted a brother, and Zeus is his brother.